Yellowstone Archive
Yellowstone National Park for 2011 Second Highest Visitation on Record

3,394,326 visitors making 5 straight years over 3 million to the park. 2010 is the record year with 3,640,184. July continues to be the busiest time of the year with over 900,000 enjoying the mid summer activities. Visitors are reminded to enjoy what the different seasons have to offer. Spring is a season of new birth and waterfalls. Summer is full colors and crowds. Fall is great for Wildlife and winter is serenity. The beauty of Yellowstone is the blending of each season into the next. For more info in your travel planning . . . click here . . .
Things to consider for your 2012 trip are time of year and your base camp/lodging. Yellowstone National Park is immense and fortunately very accessible with 5 main entrances/exits. A great way to plan your trip is to start from one end of the park, take your time and visit the must-see attractions, and end your visit through another entrance/exit. Again plan your trip in advance since there will be guaranteed delays whether it be traffic, wildlife, erupting geysers or pure scenic beauty.
---

The Yellowstone wildlife population is in a forever changing cycle. The wolves, elk and grizzlies are continuosly under the spotlight. In recent times, the Yellowstone native Cutthroat trout population has been in heavy decline . The NPS has released A plan to protect the native fish population in Yellowstone National Park for the public to review.The Native Fish Conservation Plan Environmental Assessment (EA) is designed to guide the management of fisheries and aquatic resources in the park for the next two decades. More Info ......
---
United States Mint and National Park Service Launch Quarter Honoring Yellowstone National Park

YELLOWSTONE NATIONAL PARK, Wyo. -- The United States Mint and National Park Service launched the second coin in the United States Mint America the Beautiful Quarters Program today near the iconic Old Faithful geyser in scenic Yellowstone National Park. "When Americans pull this coin out of their pockets, some will remember fond memories of their family vacation in Yellowstone, others will be inspired to visit Yellowstone to create new memories," said United States Mint Director Ed Moy. "Many Americans will make the connection to their rich history as a nation and the extraordinary natural resources of Wyoming." More Info........


"The Wildlife of Yellowstone"
- 94 Minutes -

The Wildlife of Yellowstone DVD presents to you the most popular and prominent wildlife inhabiting Yellowstone National Park. This dvd, taped in digital format, has the highest quality scenes of grizzlies, black bears, moose, wolves, otters, owls, fox and much more including their young. Inside this dvd you will find

· 94 Minutes on the Wildlife of Yellowstone.
· Three Chapters : Large Mammals, Small Mammals and Birds
· Narrated by Yellowstone Tour Owner and Specialist - Ken Sinay
· Where, When and How to Spot the Wildlife of Yellowstone
---
Winter:
2010-2011 Winter Oversnow Vehicle Road Opening and Closing Schedule
Winter Opening Dates are Snow Permitting and all dates are subject to change.
The road between the North Entrance at Gardiner, Montana, to the Northeast Entrance at Silver Gate and Cooke City, Montana.
From Mammoth Hot Springs to the parking area at the Upper Terraces (approximatedly 1/2 mi. of road)
They are maintained only during daylight hours and may close during severe storms. Expect snowpack, ice, frost heaves, drifts. Mud/Snow tires or tire chains may be required and are recommended always. Speed limit for all vehicles is 45 mph (73 kph), or lower where posted—such as from North Entrance to Mammoth. Do not stop on the road or block traffic when viewing wildlife or scenery. Use pullouts. Trails and overlooks may be snow-covered, icy, and dangerous. Obey all trail closures. Walk cautiously at all times and watch your children.
Only two park roads are plowed in the winter and remain open for wheeled-vehicle use:

The road between the North Entrance at Gardiner, Montana, to the Northeast Entrance at Silver Gate and Cooke City, Montana.
From Mammoth Hot Springs to the parking area at the Upper Terraces (approximatedly 1/2 mi. of road)
Oversnow travel ends in March. Roads close at 9 PM on the days listed:
March 1, 2011—East Entrance to Lake Butte (Sylvan Pass.)
March 6: Mammoth to Norris closes at 9 pm
March 8: Norris Junction to Madison Junction and Norris Junction to Canyon closes at 9 pm

March 13: Canyon to Fishing Bridge closes 15 9 pm

March 15, 2011—All other groomed roads in the park are closed
Only commercially guided oversnow vehicles are allowed on other park roads. Best Available Technology snowmobiles are required, and there is a daily limit on snowmobile and snowcoach entries. Off-road use of snowmobiles and snowcoaches is prohibited. The park is open for oversnow vehicle travel from 7:00 a.m. to 9:00 p.m. (the East Entrance opens at 8:00 a.m. and closes at 9:00 p.m.).
---
Some Past Events
Spring Happenings. . . . . . . . . .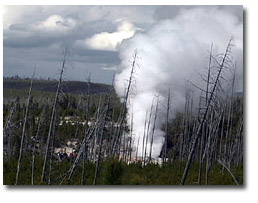 Spring and fall are favorite times of year for wildlife watchers from all over the world. Fewer visitors and lots of wildlife make it a most enjoyable experience and there's always the unpredictable just around the corner as what occured on May 23, 2005. While filming the Gibbon Meadows Alpha Wolf, you could actually feel the ground tremor. While it was tough to decide whether to continue filming the wolf or investigate the possible Steamboat eruption our decision was made when visitors from Norris Geyser basin arrived with their vehicles covered with mineral deposits and confirmation of a Steamboat eruption. The adjoining picture is from the actual video of the Steamboat eruption taken from the base of Gibbon Hill.
Steamboats eruptions make it the world's tallest geyser. Steamboat has erupted in 1989 (3 times), 1990 (1 time), 1991 (1 time), 2000 (1 time), 2002 (2 times) and 2003 (3 times).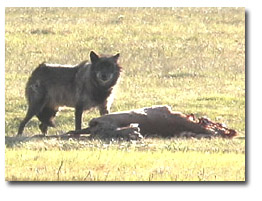 New Yellowstone Park wildlife can be seen throughout the park. This years spring attractions are the Slough Creek pack with their 14 new pups. A coyote den with 5 cute pups within easy view of the road and a devoted Great Horned Owl mother tending to her 2 owlets in the Lamar Canyon and as always wolves anytime there is a carcass to feast over. Please be extra cautious for wildlife that can appear out of nowhere to cross the road. It's bad for wildlife and will destroy your vehicle and your vacation. Just because the speed limit reads 45 MPH does not mean an elk or newborn bison won't suddenly cross the road as you're geyser gazing or wildlife watching. Over 100 large mammals are killed by vehicle mortality each year, in 2003 our favorite grizzly #264 Obsidian", was tragically killed by a motorist. Please be extra cautious when driving the park at dawn, dusk and at night.
---
Bear Activity
The Yellowstone National Park bear management policy strives to ensure a natural and free-ranging population of black and grizzly bears. One important aspect of the management policy is to separate bears from unnatural food sources; it is illegal—and dangerous—to leave food where bears can obtain it. Human foods are the chief culprit in the creation of problem bears and can lead to their becoming increasingly aggressive, requiring their destruction or removal from the area. The National Park Service reminds park visitors that all food and garbage must be stored in a bear-proof manner while camping in the park. Park visitors are asked to report to a park ranger at any ranger station or visitor center, any sightings of a grizzly bear with a bright yellow collar in or near park campgrounds or developed areas....... NPS

---
One Thousand Consecutive Days Observing Wolves in Yellowstone

An extraordinary benchmark was set in Yellowstone National Park on November 5, 2003. On that day the Slough Creek pack was spotted near Crystal Creek in the northeast portion of the park. With that sighting, it means that at least one person has reportedly observed wolves in Yellowstone National Park every day for the past 1,000 consecutive days. The last time wolves were known not to have been seen anywhere in the park was February 8, 2001. Reports of observations are from park staff as well as park visitors.
This high visibility was an unexpected result of wolf recovery and has generated national and international public interest in coming to Yellowstone to observe wolves. When the original 31 wolves were reintroduced to the park, many expected that the wolves would be wary of people and not visible and/or sightings would be rare. Instead, the wolves have been very visible; about 130,000 people have observed wolves in Yellowstone since their reintroduction in 1995.
The interest in seeing a wolf has become one of the main wildlife attractions for visitors coming to Yellowstone from both around the country and the world. It's not unusual most days in the park to see a crowd gathered along roadsides in hopes of glimpsing one of the rare carnivores. Visitors planning to visit the park to see wolves or Yellowstone's other spectacular wildlife are reminded to use pullouts and remember that the animals are wild. Undisturbed space is among the greatest of their needs. Respect this, and you will be rewarded by seeing more of their natural activities and discovering how they live in the wild. Park regulations require that you must stay at least 100 yards away from bears and at least 25 yards away from all other wildlife, but if wildlife reacts to your presence, you are too close.
---






Spring Bears

2010 is shaping up to be one of the best cub production in years. Bears have started to emerge from their dens in Yellowstone National Park. Seasonal Bear Management Area closures are designed to reduce encounters with bears in areas that have a high density of elk and bison carcasses and provide areas where bears can roam free from human disturbance. They include Firehole Lake Drive, which will be closed from Wednesday, March 10 through June 15; and the Blacktail area south of the road between Mammoth Hot Springs and Tower Junction, which will be closed from March 10 through June 30. Prior to hiking, check with the park service on bear closure areas.
---
Did You Know. . .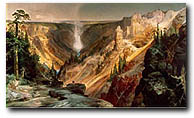 No modern technology will ever substitute to actually visiting Yellowstone National Park. For those that have been here, you know the wonders. This website will bring those memories back. For the visitors that are yet to come, YellowstoneNationalPark.com will help you plan your trip so you don't get lost or miss out in the 2.2 million acres of Yellowstone National Park.
Our directories are designed so you can get in touch with any of the businesses that operate throughout Yellowstone National Park. It is the largest resource of its kind. If you need a specific recommendation, email us in the Contact directory.